Kerry Alderson
Resident: Grants Pass
Employment: Edgewater
Katrina Bywater, CPA
Board Secretary/Treasurer
Resident: Eagle Point
Employment: Pacific Retirement Services
Travis Hoppes
Board President/Chair
Resident: Eagle Point
Employment: Hoppes Construction
Lany Sullivan
Resident: Rogue River
Employment: Self Employed
Position 5 - Available
Resident:
Employment: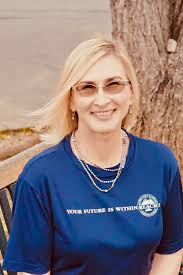 FOUNDER & EXECUTIVE DIRECTOR
Cecile Enright
Cecile Enright started her career in education in the 1990's as first a parent volunteer and then as an instructional assistant and school bus driver. She was encouraged to return to school by a friend who was also the wife of the superintendent in the district where her children attended school. While working on her teaching degree she continued to work with students as a tutor for Eagle Point School District and a teacher for READ Institute a homeschool support alternative school.
After completing her degree and receiving her Oregon teaching license, she worked as a substitute teacher. Later she took a job teaching in the bush in Alaska. This is where she first thought about starting a charter school. She envisioned an educational partnership with parents that would personalize education so that all students could find success. In 2004, she first learned about Castle Rock in Crescent City, CA, where she learned about Patty Wills and the adventure began.
In 2010, Cecile approached Rogue River School District with the concept for this unique school. REACH opened in the fall 2011 with a cap of 100 students. Within a very short time, there were students on the waitlist. Currently, our enrollment is double and we continue to grow each year.